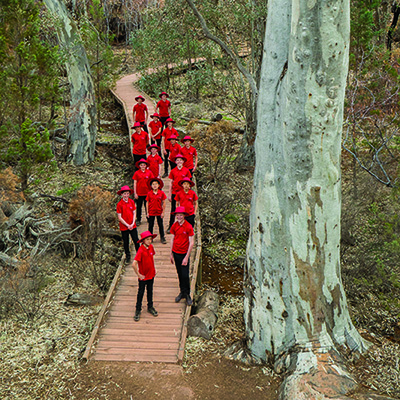 Tour Fund
Touring is an important aspect of the Choir's program and a highlight for our singers.
In 2017 the Choir visited Central Australia, performing and conducting workshops in a variety of indigenous communities including Ntaria (Hermannsburg), Yulara, Coober Pedy and Wilpena Pound. It is our hope that we can return and continue this valuable program in 2019 and beyond.
In 2018 the Choir will visit Europe, continuing a roughly biennial program of overseas tours. In recent years tours have visited New Zealand, Malaysia and Singapore and we hope to tour to China in 2020.
The costs of touring are borne by participants and their families, but the outlay is beyond the reach of some. Our Tour Fund helps ameliorate the costs of touring for all eligible boys and potentially offers extra support to those experiencing financial hardship. Donors can offer a sum towards the Tour Fund, towards a particular tour, or offer to support one or more students to participate in a tour.